From the "living room vibe" of the Central Library Theater, VATAHA marked the launch of its Ти де? | Waar ben je? (Where Are You?) magazine with a panel discussion on the power of storytelling to express empathy for migrants, take control of your own narrative, and use communication as a form of trauma healing.
On October 5, four panelists discussed the findings of the magazine's first edition themed "On The Way", which compiles stories of Ukrainians' travels to the Netherlands fleeing the war. Facilitating art projects within and outside the asylumn-seekers' centers was also an important panel topic, as well as forging friendships through artistic research projects.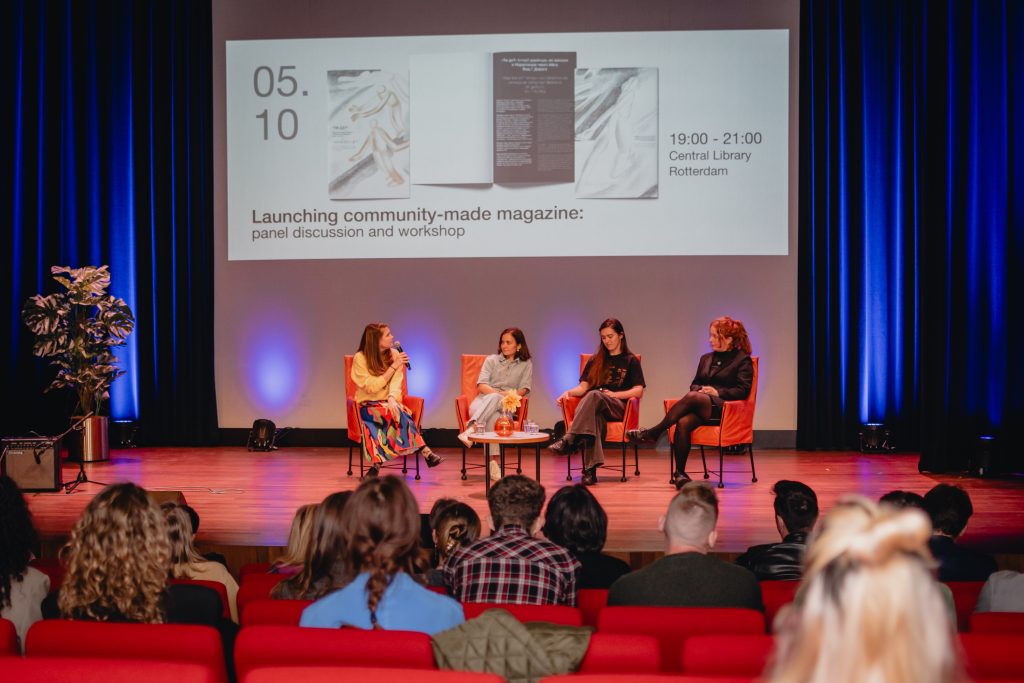 The panel asserted that manifesting and sharing personal stories of migration can be therapeutic and healing, but these stories should never be demanded or forced to be to.

"I believe that such initiatives are also important because by sharing personal stories, we deprive a certain group of the labels and homogeneity that have been placed on it," said co-panelist Anna Kakhiani. "Behind each story is a person and a whole life, a whole universe. I am very glad that we managed to create a safe environment where people with very different backgrounds felt free to express themselves.
"I think the therapeutic effect of the process was also in the act of packaging the experience in a specific form or narrative, manifesting your will and taking control of what you were driven to do by unforeseen forced circumstances."
More than what meets the eye
In our current political landscape, it's easy to equate Ukrainians with war refugees – an image especially emphasized by the media. However, co-panelist Nicole Katenkari shared that the discussion panel was particularly intimate and gezellig. "I feel proud that the conversation was thoughtful and meaningful, and not sad or depressing."
"VATAHA's self-organization in engaging in culture is really powerful and I think that's why a cultural event like [ours] contributes a lot," said fellow speaker Annosh Urbanke.
"You can connect via a personal culture and a creative level. This creates meeting points that don't have to necessarily go back to your background; they do, but they don't have to. That's what I felt was very important."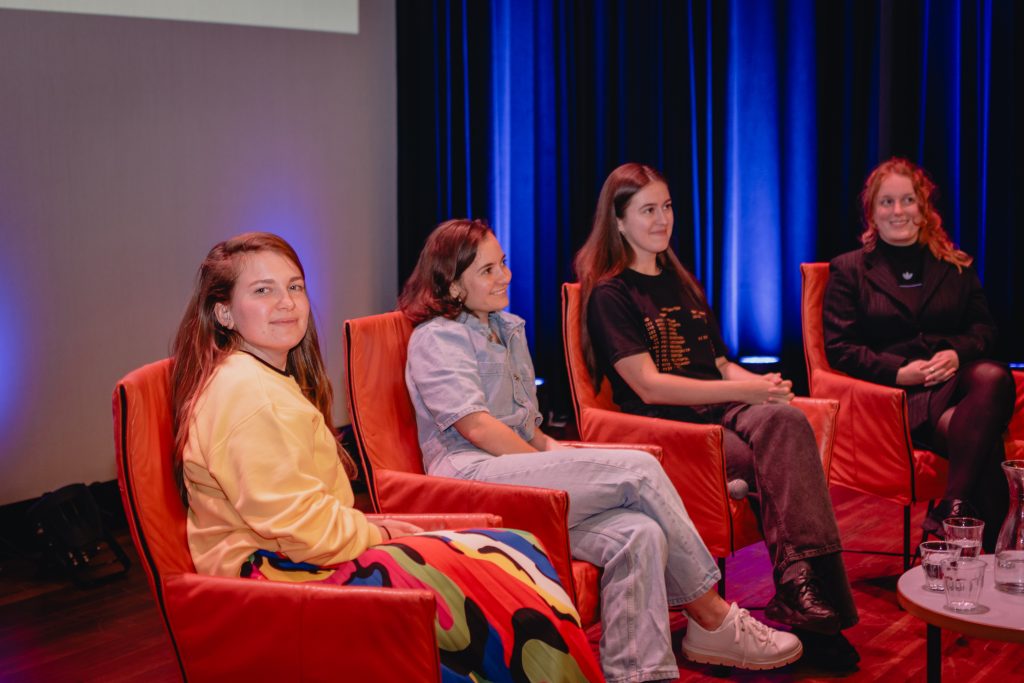 Meet the speakers
Katenkari was particularly moved by Shaidrova's previous work experience with Nigerian refugees in Sicily. Shaidrova had been preparing an anthropological visual art exhibition in collaboration with Nigerian women from various life circumstances and 'labels' assigned in Sicily.
"What inspired me was that during this project, [Shaidrova] had certain ideas on what they could do and topics she wanted to talk about in this exhibition together," said Katenkari. "And then once they started creating together, she realized that it was something that she wanted from them, and not that they were eager to tell certain stories she had been interested in."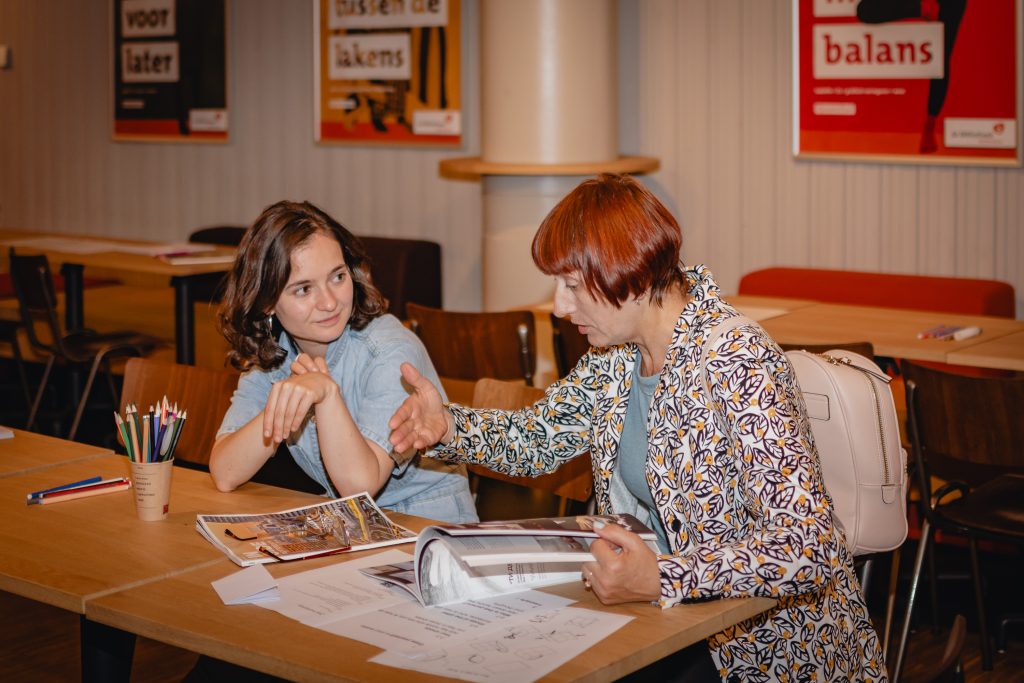 "Empathy can be shown by offering the opportunity to tell the story you want to tell, and not labeling someone as just a 'migrant' or 'asylum seeker', but as a person," Shaidrova said during the discussion. "Or also, just by offering to be silent. No one should be forced to tell their story if they don't want to."
Art builds understanding
Part of the empathy process is putting yourself in someone else's shoes – sometimes literally. "I opened up the panel discussion by asking the panelists and the audience to recall a moment in which they felt like they were wearing someone else's shoes," Katenkari explains.
After the panel discussion, the event attendees took part in a zine-making workshop to express what walking in someone else's shoes meant for them. "This exercise helped us become a little bit more aware in which position we currently are, and then imagine and create a persona that is different," Katenkari explains. "Not opposite, but just different, to understand how this difference feels."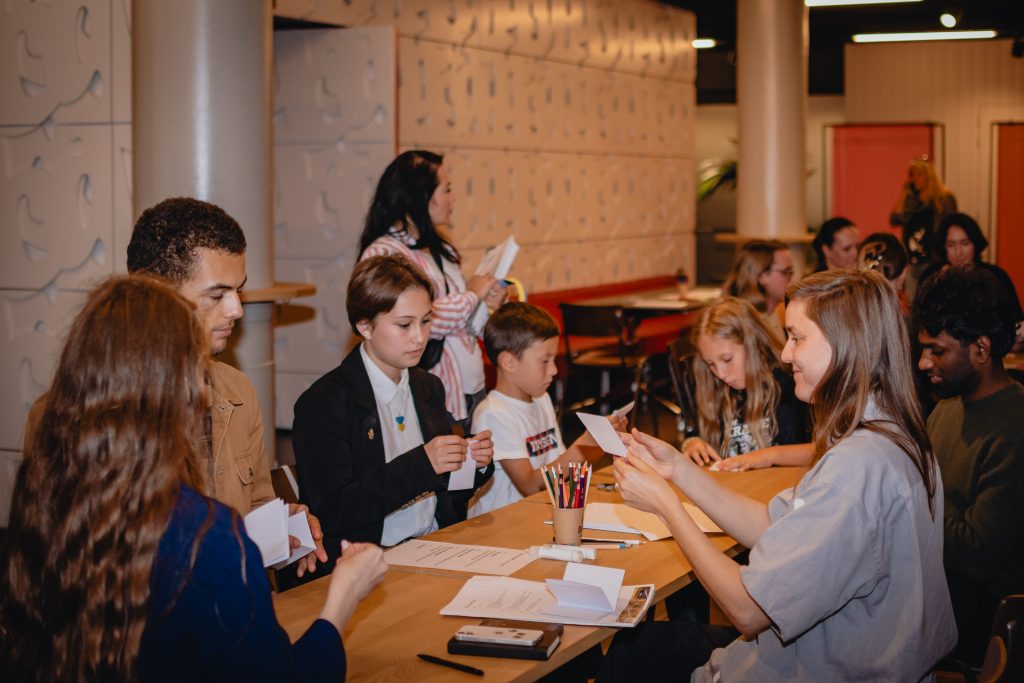 "Answering [Katenkari's] question about 'walking in the shoes of another' through the prism of my artistic practice, I shared one of my latest works, 'Don't Cry'," shared Kakhiani.
"It is an installation of 40 napkin boxes filled with sandpaper. I believe that it is not only by going through similar experiences we can empathize with people. It is a kind of work has to be done: diving into the context, knowing the basics of mental health issues, be very clear about your own motives and goals."
Finding community in conversation
The "Ти де? | Waar Ben Je?" magazine was originally self-published during a weekend workshop at the Verhalenhuis Belvedere last November.
"It's easy to collect someone's stories by using a Google form online. On the contrary, we were interested in the process and the fact that each participant found their own form of expression," Kakhiani details.
"We needed the space as a safe place for communication, experiments and the workshop itself. The workshop resulted in an exhibition, a draft magazine, and a presentation. The 'way' in the title refers not only to the literal movement from Ukraine to the Netherlands, but also to the transit state, transformation, and change in not physical dimension. That's why we use the word 'Way', not 'Road'.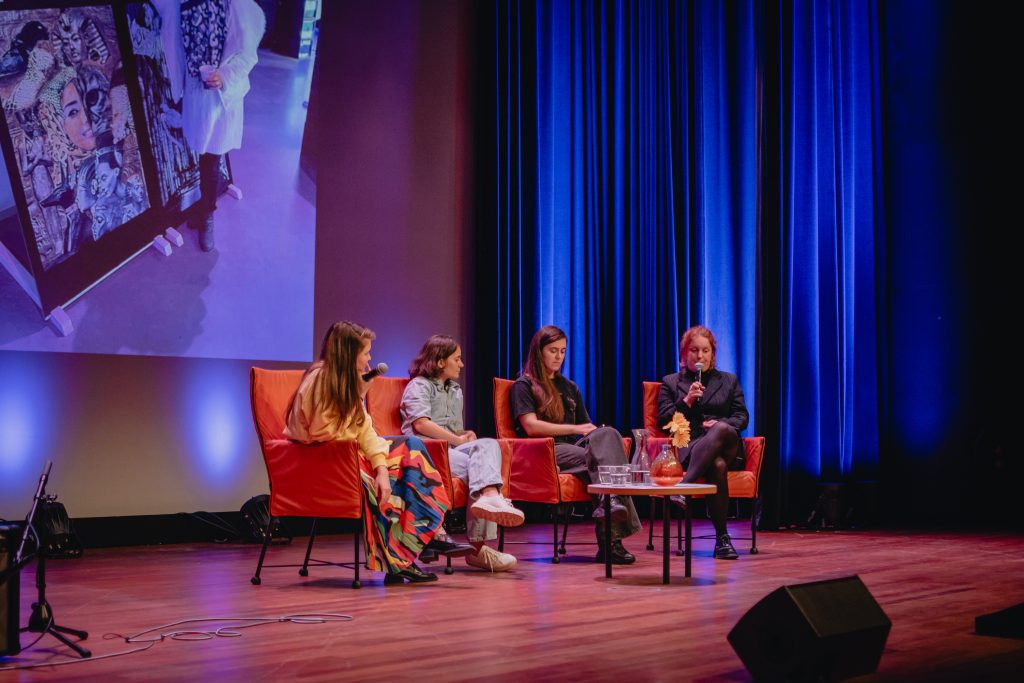 During the two-day workshop, the participants created the first versions of the layout themselves on the first presentation day. "So when we moved on to the final version for printing, it was important for me to keep the energy and mood of each of them," Kakhiani explains. "All these stories symbolize a 'way' as a movement toward a future full of hope, humanity and the newfound strength in vulnerability."
"No one – not even us the event organizers – anticipated how therapeutic this storytelling workshop would be," Katenkari notes. "The creation process was extremely healing and there was a real bonding moment. At the end, this group of just ten people was crying, laughing and hugging together. Just one hour before, we had sat down as strangers."
Read it for yourself
Particularly because most of the event's attendees were either Ukrainian or internationals with an affiliation to VATAHA, spreading the word outside the Ukrainian community is of great importance.
The magazine gives Ukrainians the feeling they don't need to reinvent words or ways of telling their story over and over again. Still, the power to inspire and uplift others by sharing your own story also cannot be underestimated. "Otherwise you are missing out on a unique opportunity," Katenkari emphasizes.
Of the 150 magazines printed, about one third are still available for free to the public. Contact us to get your free copy.
Partners:
FENIX
Bibliotheek Rotterdam
Verhalenhuis Belvédère