This April, VATAHA successfully concluded its first architectural program called aHOUSEforHOME. Throughout the three-month program, 30 teenagers aged 11-18 from 12 different cities in Ukraine had the unique opportunity to learn more about urban environments.
As Russia's full-scale war continues to destroy Ukrainian cities, the topic of city growth and urban development was particularly refreshing and hope-inspiring. Moreover, considering roughly 90,000 individuals have found refuge in the Netherlands, the concept of "home" continues to take on new shapes and meaning for displaced Ukrainians.
One of the tutors Anastasiia Paliy underscored that events for Ukrainians in the Netherlands are typically targeted towards language learning and social integration. "We noticed that there was a lack of creative events, so we decided to take matters into our own hands and to organize them ourselves," she said.
The course introduced the participants to the city of Rotterdam and its unique post-modern architecture. The prestigious Nieuwe Instituut, the National Museum of Architecture, Design and Digital Culture opened its doors for aHOUSEforHOME to take place. The group was split into two: one "City Studio," which viewed the entire city as a home (led by tutors Oleksandra Naryzhna and Anastasiia Paliy), and the "Home Studio," which studied housing (led by tutors Alexandra Nikitenko and Alisa Kutsenko).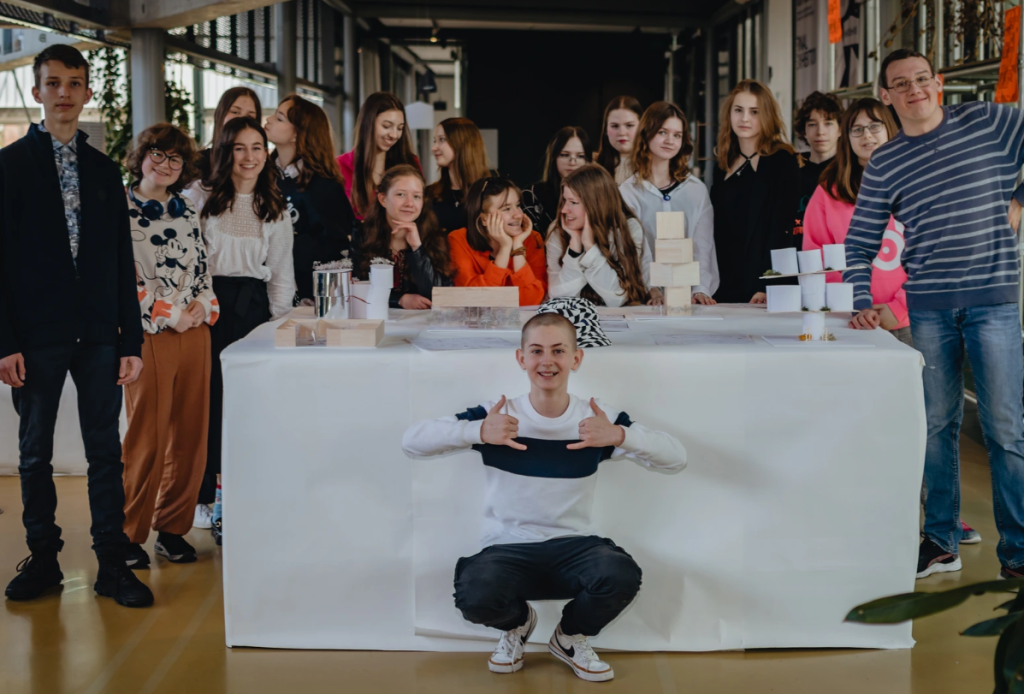 Every Saturday from February to April, the participants met with their tutors at the institute to work on their projects and attend excursions and workshops. The City studio worked on a public space project, while the Home studio designed their dream homes. Overall, both groups drew their own conclusions of what makes a home feel like home.
"We compared cities in the Netherlands and Ukraine with our students. The Netherlands are known for their comfortable cities, but it's interesting that some teenagers preferred Ukrainian cities," said tutor Oleksandra Naryzhna. "They missed constantly open shopping centers and outdoor sports areas. However, they also noticed that the air quality in the Netherlands was better, and there was more nature in the cities."
Besides working on their group projects, the teenage participants enjoyed a guided tour of the Nieuwe Instituut and early 20th-century villas, went on walks around the city and were encouraged them to draw what they saw. The students even got to meet the designers from the world-renowned OMA architectural studio, who inspired them with personal stories and their work principles.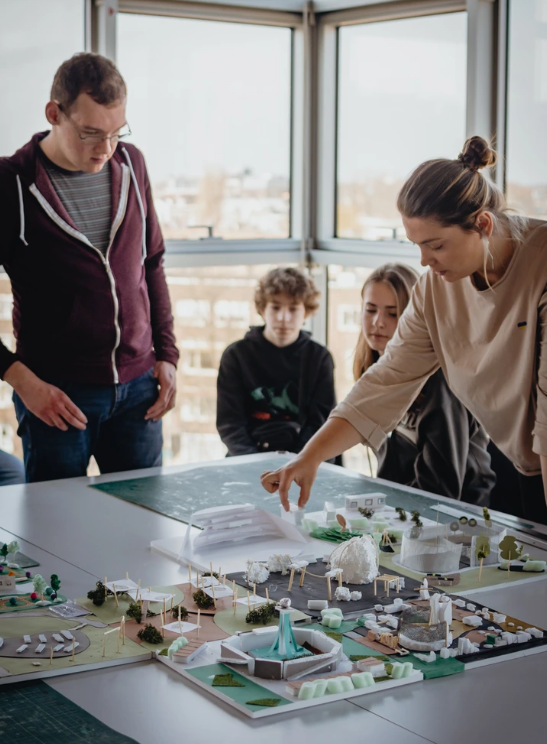 The final project of the City Studio was a model of a shared public space, in which each participant developed their own part, resulting in an open-air exhibition, a parkour area, a skateboard ramp, and much more. Meanwhile, the House Studio team created models of their individual dream houses, including greenhouses, towers, and tree houses. According to one of the tutors, Oleksandra Nikitenko, it was clear that the teenagers longed for more space and many rooms, reflecting the opposite of their current living conditions.
At the final exhibition on April 15, both groups presented their models and sketches of their projects. Alongside their tutors and parents, local architects provided constructive feedback and praised their work. According to the participants, the course opened their eyes to the fact that they can learn useful things abroad to use in Ukraine after their return. Many said they were considering a career in architecture.
aHOUSEforHOME was a collaborative project between Studio Kitsunya, urban reform, Nieuwe Institute, VATAHA and the Ukraine Netherlands Urban Network.